Chirac and the recolonization of the banlieues:
"M. Chirac a ressuscité la fracture sociale en évoquant la nécessité de reconquérir les "territoires perdus de la République"
[Mr. Chirac has ressucitated social division (in France) by evoking the need to reconquer the "territories lost by the Republic"]
French colonialism in France, the prothesis of origin:
The lessons of colonialism learned from the invasion of Algeria were applied by the French state upon its own subjects. France, like all modern states, was modernized and made uniform by folding the logic of colonialism back upon itself.
"The violence so prominent in Fanon's pages was rare in nineteenth-century France, perhaps because risings capable of seriously threatening the state were a thing of the past. Given time and skins of the same color, assimilation worked. But otherwise Fanon's account of the colonial experience is an apt description of what happened in the Landes and Corrèze. In France as in Algeria, the destruction of what Fanon called national culture, and what I would call local or regional culture, was systematically pursued."
- Eugen Weber,
Peasants into Frenchmen: The Modernization of Rural France, 1870-1914
.
"Un peuple! une Patrie! une France!... Ne devenons jamais deux nations, je vous prie.
Sans l'unité, nous périssons. Comment ne le sentez-vous pas?
Français, de toute condition, de toute classe, et de tout parti, retenez bien une chose, vous n'avez sur cette terre qu'un ami sûr, c'est la France."

[One people! One Fatherland! One France!... We must never be two nations, I pray thee. Without unity, we perish. How can you not feel this to be true?]
-Jules Michelet,
Le Peuple
, (1846).
A metropolitan colonialism
«Messieurs, il faut parler plus haut et plus vrai ! Il faut dire ouvertement que les races supérieures ont un droit vis-à-vis des races inférieures. Je répète qu'il y a pour les races supérieures un droit, parce qu'il y a un devoir pour elles. Elles ont le devoir de civiliser les races inférieures»

[Gentlemen, we must speak louder and more honestly! It must be openly stated that the superior races have a duty vis-a-vis the inferior races. I repeat that for the superior races there is a right, because there is a duty. They have the duty of civilizing the inferior races.]
Jules Ferry (1832-1893), theorist of the republican state, of French colonialism, and universal education
The Wretched of the Earth (v.o.):
The Wretched of the Earth (v.f):
Urban space in the metropole and the logic of colonialism:
"Lurking in the resplendent metropolis, the crowd embodied a 'savage' and dangerous underclass waiting to spring upon the propertied owners... Colonial discourse was systematically deployed to map urban space into a geography of power and containment. The analogy between slum and colony was tirelessly evoked, as was the presiding figure of imperial discovery... At the same time, the images of imperial exploration that suffused journalistic excursions and parliamentary reports offered an imaginary technology of surveillance that both exhorted and justified social intervention."
- Anne McClintock,
Imperial Leather: Race, Gender and Sexuality in the Colonial Contest
.
French anticolonialism in France, a synthesis:
"Bing, bang, la police est comme un gang.
De l'Afrique Noire au maghreb et de la Corse à l'Irlande.
Les minorités se lèvent, notre sang vient de la même sève.
C'est pour ça qu'il n'y a jamais de trève."
[Bing, bang, the police are like a gang.
From Africa, the Maghreb, Corsica and Ireland.
Minorities are rising, our blood comes from the same source
That's why there will never be a truce.]
Assassin, "
L'état assassine
"
"La France reste un Etat colonial ! En Nouvelle Calédonie, Guadeloupe, Martinique, Guyane, Réunion, Polynésie règnent répression et mépris du suffrage universel. Les enfants de ces colonies sont, en France, relégués au statut d'immigrés, de Français de seconde zone sans l'intégralité des droits. Dans certaines de ses anciennes colonies, la France continue de mener une politique de domination. Une part énorme des richesses locales est aspirée par l'ancienne métropole et le capital international. Son armée se conduit en Côte d'Ivoire comme en pays conquis.

Le traitement des populations issues de la colonisation prolonge, sans s'y réduire, la politique coloniale. Non seulement le principe de l'égalité devant la loi n'est pas respecté mais la loi elle-même n'est pas toujours égale (double peine, application du statut personnel aux femmes d'origine maghrébine, sub-saharienne...). La figure de l'« indigène » continue à hanter l'action politique, administrative et judiciaire ; elle innerve et s'imbrique à d'autres logiques d'oppression, de discrimination et d'exploitation sociales. Ainsi, aujourd'hui, dans le contexte du néo-libéralisme, on tente de faire jouer aux travailleurs immigrés le rôle de dérégulateurs du marché du travail pour étendre à l'ensemble du salariat encore plus de précarité et de flexibilité.
La gangrène coloniale s'empare des esprits."
[France remains a colonial State! In New Caledonia, Guadeloupe, Martinique, Guyana, Reunion, and French Polynesia, repression reigns along with contempt for universal suffrage. In France, the children of these colonies are relegated to the status of immigrants, and remain second-class French citizens without integral rights. In some of its old colonies, France continues to follow a policy of domination. An enormous share of the local riches is stolen by the old metropolis and by international capital. Its army acts in the Ivory Coast as if in a conquered country.
People in France, arrived from the colonies, continue to be treated by a colonial politics. Not only is the principle of equality before the law not respected, but the law itself is not always equal (double indemnity, application of the personal code to women of maghrebian origin, sub-Saharan...). The figure of the 'native' continues to haunt political, administrative and legal policy; it ennervates and overlaps with other logics of oppression, of social discrimination and exploitation. Thus, in today's neoliberal climate, one tries to have immigrant workers play the role of deregulators of the labour market, so as to make to wage-earning as a whole, for all, even more precariousness and flexible.The colonial gangrene steals our humanity.]
For a metropolitan anticolonialism: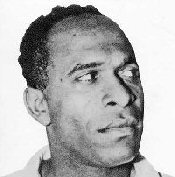 Frantz Fanon, theorist of the colonized underclass, of anti-colonial revolution, and universal freedom.